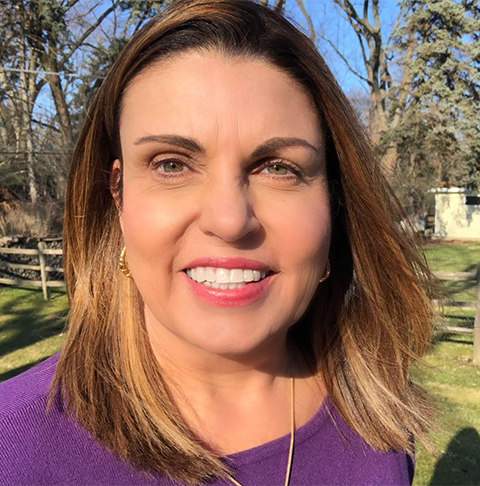 Meet Sharon
Hi!
I'm Sharon, a Mayo Clinic Certified Wellness Coach and the founder of Wellness in Heels, a female-focused coaching company designed to help women achieve their health and wellness goals by developing self-care habits and customized routines that work for THEM.
My own wellness journey began when I made the decision to quit my job as a Hollywood talent agent.
Don't get me wrong … I loved every minute of the 18 years I spent working in the entertainment industry. It was a lot of fun and very exciting. It was also a lot of hard work with very long hours and very low pay. But as fabulous as my life appeared to the outside world, the real truth of the matter was that I was tired and stressed out all the time.
As an agent, it was my job to get my clients in the room (whether they were meeting with a production company, television network executive or studio executive). It was then their job to Get. The. Job.
There was only one problem …
While I could get my clients in the room, they weren't getting the jobs! As a result, I was not pulling in my share of the income that I was expected to bring into the agency. It was not a good situation and every day I went to work wondering if "today" was going to be my last day on the job!
But it wasn't until I woke up in tears one morning, realizing that I was $60k in debt, overweight and absolutely dreading going to work, when I realized how truly miserable I really was!
My 13-mile commute to work took 60 minutes in the morning and it took me 90 minutes to get home at night. I had stopped working out with my trainer because I couldn't make it to work on time and he was done training by the time I got off work at night. I also quit swimming on the weekend (once a competitive swimmer, always a "swimmer.") because all I did was work. I ate breakfast in my car; lunch at my desk and Taco Bell for dinner. And, because I don't like coffee, I was also drinking Diet Coke like it was my (other) full-time job.
But, no matter how unhappy I was, I was also not quite ready to admit that I my life wasn't working, either … After all, I was a "HOLLYWOOD AGENT!"
That meant that I was seen as someone "important" in the entertainment industry. And, after spending years being invisible to most of the people I encountered in Los Angeles, I just couldn't bring myself to quit the job that garnered me the attention (if only superficial) of so many people! In my heart, however, I knew that instead of thriving I was simply surviving.
The turning point finally came via a rescinded Thanksgiving invitation.
Earlier that summer, I attended a family reunion. My cousins asked me if I was going to be in town for Thanksgiving and, if so, would I like to join them? I told them I would love to and to please just tell me when and where, and I would be there.
A couple of days before Thanksgiving, my mom asked me if I had heard from my cousins. I told her no. She then asked me if I would like her to call them. My response? If they can't remember that I live out here, then forget it! Years later I found out from one of them that my grandmother (the matriarch of our family) used to write to them on a regular basis, reminding them that I lived out there and asking them to please don't forget about [me]. Hearing that just about broke my heart, but I digress …
The day before Thanksgiving, I was in a little "mom and pop" stationary store that I frequented on Ventura Boulevard, picking up some business cards that I had ordered. The owner of the shop asked me what I was doing for the holiday and I told her that I would probably be making spaghetti for dinner. She then asked me if I would like to join her and her husband at a friend's house for Thanksgiving. I thanked her for the invitation and told her I would think about it and call her back within the hour.
On the drive home, I thought to myself, "you have two options, Sharon. You can either sit at home and feel sorry for yourself, or you could go and meet some new people and have some fun." I called her back from my car and told her I would love to go. She told me that she would call her friend to confirm and would call me back later that afternoon.
In the meantime, I called my mom and told her that I now had a place to go for Thanksgiving. Obviously, she was happy that I wouldn't be alone for the holiday.
A couple of hours after I called my mom, the owner of the stationary store called me and basically uninvited me, telling me that she spoke with her friend and her friend told her that she simply didn't have room at her table for one more person. I was crushed. And, because I knew how relieved my mom was that I had been invited somewhere, I couldn't bear to call her with the news.
On the morning of Thanksgiving Day, I was sitting on my couch thinking about how nothing in my life was really working and I started wondering if God was trying to tell me that it was time to leave Los Angeles. I had been contemplating that idea for a while, but I didn't know where I would go or what I would do, and nothing was really pushing me in the direction of a move … until that moment.
My mom called around 10:30 am that morning and asked me what time I was heading over to the party. I told her that I had been uninvited and the next words out of her mouth were:
Do you think God is trying to tell you that it's time to leave California?
Talk about serendipity! I told her that I had literally been thinking that exact same thing when she called and in that moment I knew that the time had come for me to make some major changes in my life.
In very short order, I quit my job at the talent agency, enrolled in one of the very first coach training programs offered in the United States, and made the decision to leave the beaches of Southern California for the mountains of Montana.
Why Montana? Because I had been there previously and fell in love with it. However, at that time, I also knew that because I worked in the entertainment industry, living there was a complete impossibility. But now that door was open and I was ready. I knew that I needed to get out of the rat race of Los Angeles and that living in Montana would allow me to slow down and get back in touch with who I really was: a small town girl who spent years in the fast lane and was ready to let someone else pick up that baton.
Little did I realize that my move to Montana was only the beginning of my wellness journey!
Several years after arriving, my mom was diagnosed with a very rare form of cancer. Talk about a punch in the gut! Neither my parents nor I saw that one coming.
Gratefully, the Mayo Clinic and the grace of God saved my mom's life … twice! So when I learned about the opportunity to further my coach training and become a Mayo Clinic Certified Wellness Coach, I jumped at it … after which I was promptly diagnosed with both Celiac disease and Lyme disease! The Universe certainly has a good sense of humor at times, doesn't it?!!
As a result of these two autoimmune diseases, I have become even more aware of the importance of practicing self-care by changing my eating habits, moving more, cleaning up my own toxic load and simply taking better care of myself. And that realization is what became the catalyst for my passion to help other women, just like you, begin their own self-care journey because …
You were born to THRIVE … Not simply survive!
Are you ready to take control of your own health and wellness? If so, let's talk!